Micro body cooling system
Portable Body Cooling System|AC Cloth
This product is a micro environment cooling system foe human body, including a Micro refrigeration mainframe with refrigerating capacity of 200W, LCG, Battery, bags, charger and accessories, the product is designed by portable belt or backpack, which is easy to carry.
This product is used for all kinds of needs of the portable use of body cooling, including: chemical forces, special operations, traffic police, firefighters, medical rescue, racing, fishing, tourism and outdoor enthusiasts and other groups.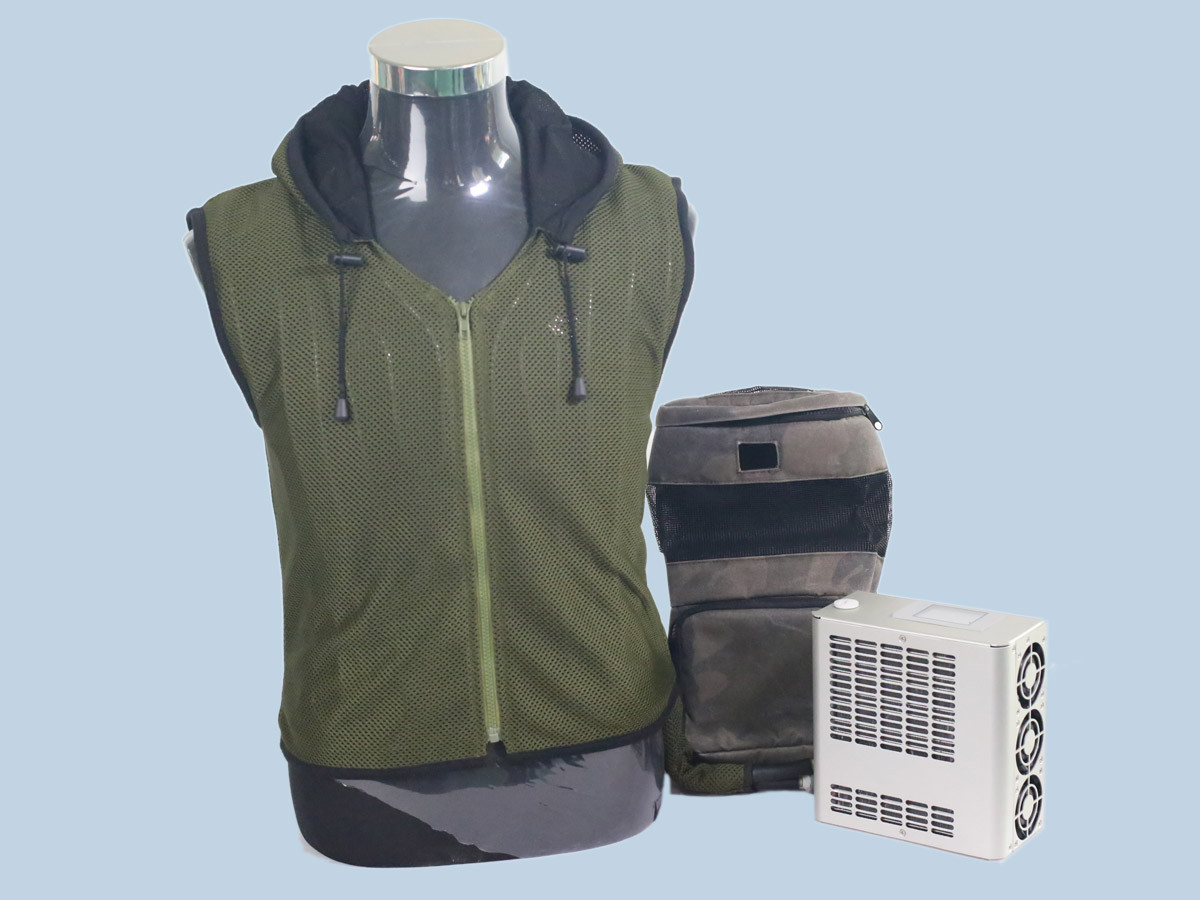 1. Features
---
①Small and light

The miniature compression expansion refrigeration products using self-research heat exchangers are the smallest and lightest in the similar products.

②High temperature control accuracy

The temperature can be manually set on the touch screen, and the product can achieve the temperature control accuracy of 1 degrees centigrade.

③Easy operation

The refrigeration efficiency of the small micro refrigeration system is about 2, which is 5 times of the semiconductor refrigeration efficiency, and is far higher than other refrigeration and cooling methods.

④High electric efficiency

The refrigeration efficiency of the small micro refrigeration system is about 2, which is 5 times of the semiconductor refrigeration efficiency, and is far higher than other refrigeration and cooling methods.

⑤High reliability and safety

Product development through a series of reliability and safety testing. The factory production of each product must go through the corresponding type test (vibration, pressure, high and low temperature environment, weather resistance, oil return, condensation, protection, liquid pump / fan components such as reliability, performance, electrical safety etc.).

⑥Good environmental adoptability

(1) Cooling or heating in temperature of 50 ℃~-40℃. Temperature can be continuously controlled from -20℃~ 35℃.
(2) Adapt to 0.5 ~ 1 atmospheric pressure (high altitude) working environment.
(3) Response quickly according to temperature changing.
(4) Adapt to mobile sloshing environment (transportation, people carry).
(5) According to the requirements, it have the corresponding level of waterproof and dustproof function, electromagnetic compatibility, medical device certification.
2. Product Parameters
---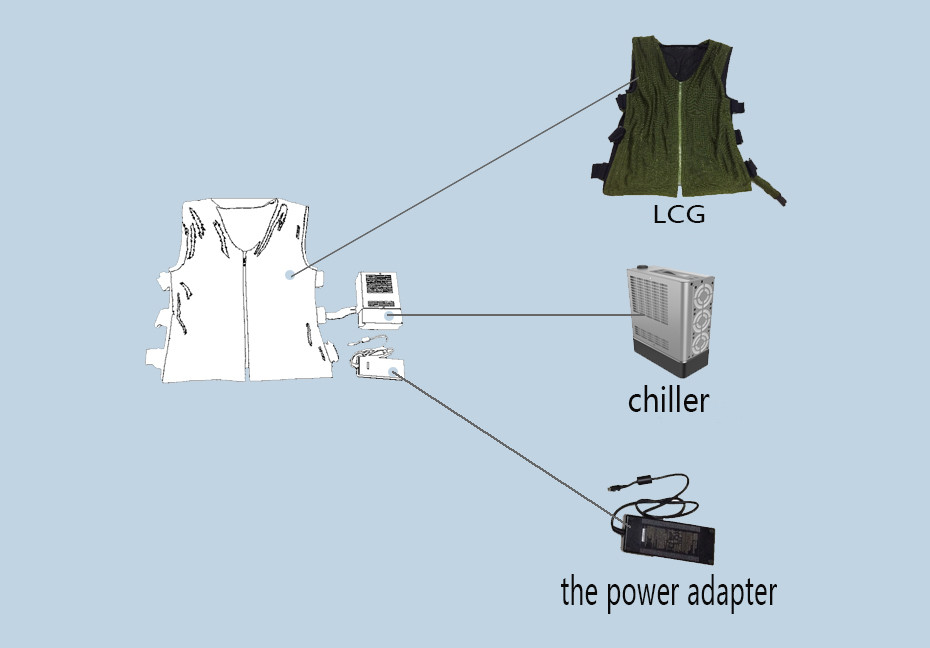 2.1 Naming Rules
---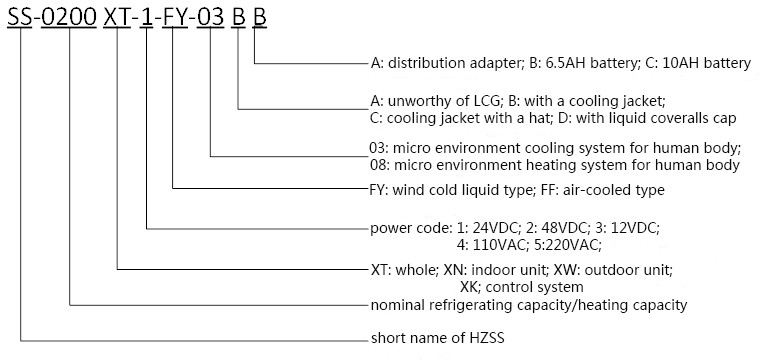 2.2 Configuration
---
No.
Component type
Component name
Component description
1
Host
Compressor
Miniature DC variable frequency compressor
2
Evaporator
Microchannel heat exchanger
3
Condenser
Parallel flow microchannel heat exchanger
4
Refrigerant
R134a
5
Display panel
Touch panel
6
Cooling clothes
Fabric/Lining
Standard
7
Cooling water pipe material
Food grade plastic pipe
8
Water interface
Matching quick joint
9
Housing
Shell
Surface treatment of aluminum alloy shell by anodic oxidation.
10
Battery and charger
Li-On rechargeable
3D lithium batteries
11
Charger
Supporting
2.3 Host parameters
---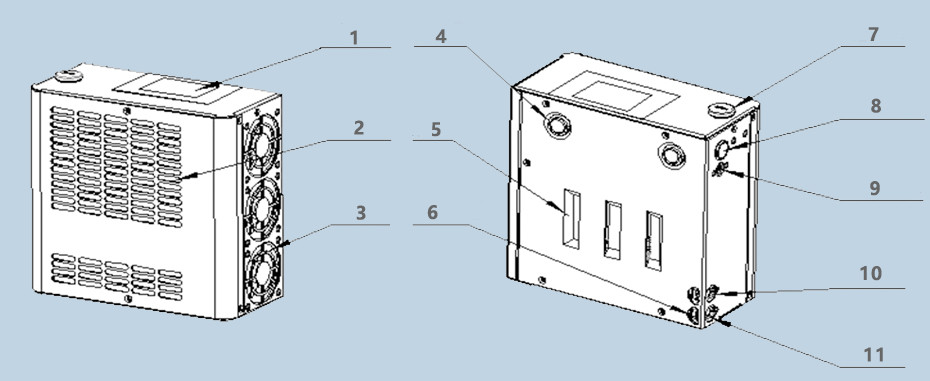 | | | | |
| --- | --- | --- | --- |
| 1 | Touch pannel | 7 | Water filler |
| 2 | air inlet | 8 | power switch |
| 3 | air outlet | 9 | power connector |
| 4 | strap ring | 10 | water inlet |
| 5 | strap groove | 11 | water outlet |
| 6 | release button | | |
2.4 Host Dimension
---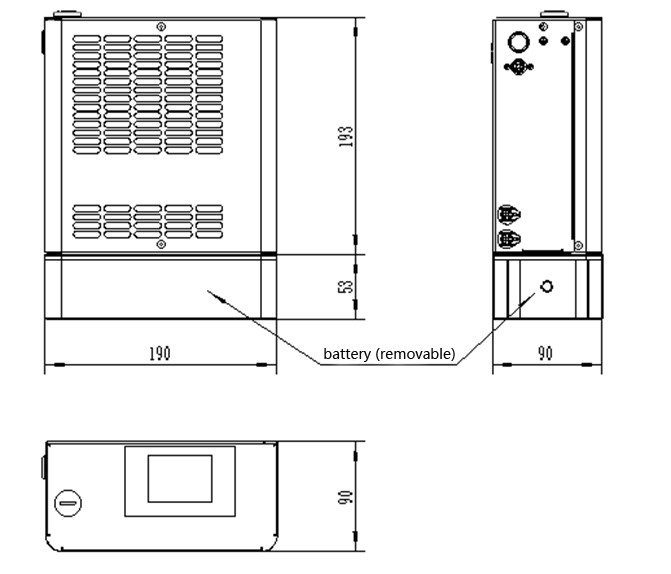 2.5 Cooling Cloth Style
---
| | | |
| --- | --- | --- |
| a.Lquid cooling jacket | b.Liquid cooling jacket with hood | c.Liquid cooling suit with hood |
2.6 Technical specification sheet
---
Host parameters
Project
Unit
Numerical value
Nominal refrigerating capacity
W
200
Nominal power
W
110
Main input voltage
V
DC24
Rated voltage of host
A
4.6
Rated current of host
A
9.0
Range of output water temperature
°C
Advice:16.03~5.0
Dimension
mm
Length:190
Width:90
High:193
Temperature control mode
Touch screen settings, host self-control
Working environment temperature
°C
+10~+50
Storage environment temperature
°C
-30~+70
Net weight of host
kg
2.5
Host noise
dB(A)
55
Circulating medium
100% pure water or distilled water
Appearance material
Aluminum(1.Silvery 2.Blue 3.Black 4.Others )
Note:Nominal working condition: The ambient temperature is 45°C centigrade. The liquid temperature is 25 degrees centigrade °C.
Battery parameters
Project
Performance
Remarks
Nominal voltage
22.2VDC
200
Working voltage
19.0~25.2VDC
Nominal capacity
6.5 AH(Standard)or 10AH
Working temperature
Charge:0℃ ~45℃
Discharge:-10℃~60℃
Storage temperature
3 monthes:-20~45℃
When stored, check regularly to keep the battery in power condition.
6 monthes:-20~30°C
Net Weight
0.9 or 1.4kg
Charger parameters

| | |
| --- | --- |
| Input voltage range | AC 100-240V |
| Rated input voltage | AC 220V |
| Input frequency range | 47~63HZ |
| Input current | 2.5A Max(@AC 180V,Full Load) |
| Work efficient | 85% Min(@220V AC,Full Lord) |
| Charging voltage | 25.2V DC |
| Charging voltage range | 25.2~25.5V DC(Ref:25.3V DC@empty Lord) |
| Charging current | 4.0A |
| Working temperature | -30~45°C |
| Storage temperature | -40~75°C |
| Working humidity | 0~90% |
| Storage humidity | 0~90% |
| Cooling method | Natural air cooling |
Charger status indication parameter
LED instructions
Charging state
green
red
Waiting for charging
ON
OFF
Plug in batteries
OFF
ON
Charging completed
ON
OFF
Output short circuit
FLASH
FLASH
Output reverse connection
ON
OFF
Liquid cooling cloth parameters
Temperature resistance ℃°C
As Demand
Material
Nylon + Spandex(No water pipe)
Liquid connector
Self-closing fast plug joint
Washing method
Put it in laundry bag
Weight(kg)(kg)
Liquid cooling jacket
0.85
Liquid cooling jacket with hood
1.00
Liquid cooled coveralls cap
1.20
3.Performance
3.1 Working range
---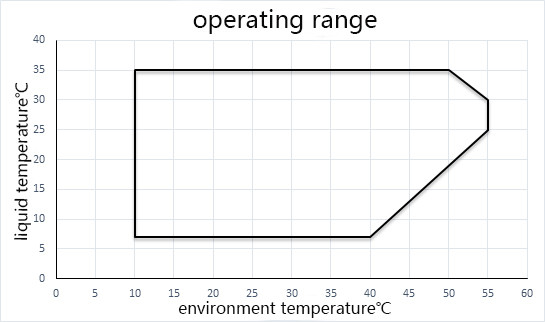 Note:Working over range for a long time, the host will warmming.
3.2 Cooling Capacity
---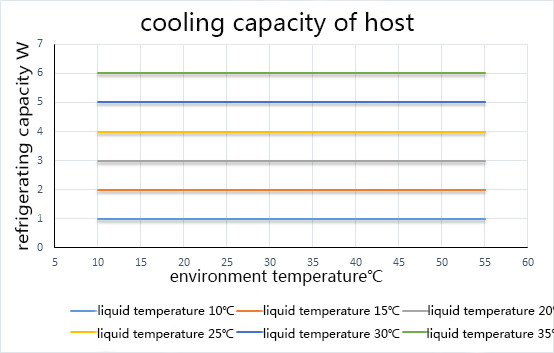 3.3 Battery working time
---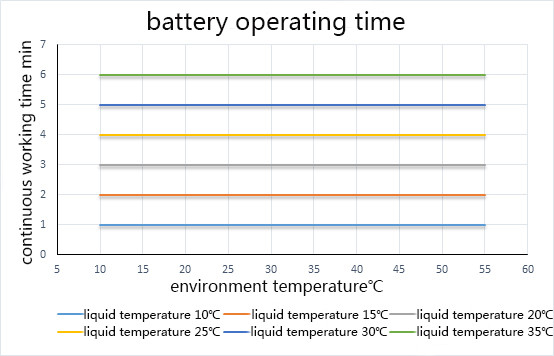 4. Fault code
---
Code
Fault
Code
Fault
F1
Compressor overload/condenser fouling
F21
Disconnection of water pump
F2
Compressor self-protection
F22
Pump overload/water filtration blockage
F3
Compressor communication failure
F26
Environmental temperature sensor fault
F4
High temperature protection of compressor
F27
Liquid temperature sensor fault
F11
Fan 1 broken line
F28
Fault of inlet temperature sensor
F12
Fan 2 overland
F41
Liquid or liquid flow is low
F13
Fan 3 broken line
F42
Environmental temperature anomaly
F14
Fan 1 overload
F43
Anti-freezing protection
F15
Fan 2 overland
F44
Overvoltage/under voltage of power supply
F16
Fan 3 overload
F21
Pump line broken

Note: When some fault occur, the host will continue to operate, but it will automatically take some recovery measures or alternative measures.
Kontaktiere uns

TEL: + 86-0517-64510919
E-Mail: gjb@hzssjn.com
Standort: Dadiankou-Bezirk, Hangtou-Stadt, Jiande-Stadt, Hangzhou, Zhejiang-Provinz, China

Compasny Profil

Hangzhou Shenshi Energie Conservation Technology Co., Ltd (HZSS) ist ein führender Anbieter von Forschung und Entwicklung, Herstellung, Vertrieb und Service für Wärmetauscher, Energieeinsparungsprodukte. HZSS befindet sich in der Stadt Hangzhou, im Osten Chinas, ...